Eurovac Products
Eurovac I 5HP & 10HP – 18″FS Combo Unit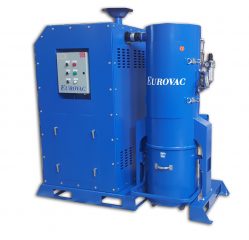 5HP (230/460/575v) Part #: EIC-P05-18132002
10HP (230/460v) Part #: EIC-P10-18132002
10HP (575v) Part #: EIC-P10-18135002
Description
● Design: Stand mount system which comes pre-wired from panel to pump and to the pulse jet cleaning.
● Blower: 20,000+ hrs of continuous use
● Filtration: Cyclonic filter separator, after polyester cartridge filter (42 sq. ft. filter media) (99.93% efficient at 3 microns or larger) and final automatic pulse jet cleaning
● Canister: 20 Gallon
● Controls: On/Off, Overload Protection, Run Light, Hour Meter, 24v Step Down Transformer (ie: Control of remote switches), Automatic Filter Cleaning
● Electrical: 208-240, 460 and 575 volts. 3 phase, 60 hertz.
● Includes: Silencer & cover for motor
● Includes: Magnahelic gauge (Indicates when pressure differential is too high and filters need replacement)
● Note: Unit is skid mounted for easy transportation
Applications
Industrial, Body Shop, Woodworking, Aerospace, Detail, Pharmaceutical, Boatbuilding, Transit, Military.