The last Eurovac Solution you were browsing was Eurovac I 5HP & 10HP – 18″FS Combo Unit.
Eurovac Products
Eurovac I 5HP & 10HP – 18″FS Combo Unit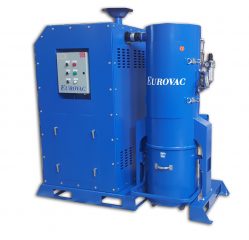 5HP (230/460/575v) Part #: EIC-P05-18132002
10HP (230/460v) Part #: EIC-P10-18132002
10HP (575v) Part #: EIC-P10-18135002
Description
● Design: Stand mount system which comes pre-wired from panel to pump and to the pulse jet cleaning.
● Blower: 20,000+ hrs of continuous use
● Filtration: Cyclonic filter separator, after polyester cartridge filter (42 sq. ft. filter media) (99.93% efficient at 3 microns or larger) and final automatic pulse jet cleaning
● Canister: 20 Gallon
● Controls: On/Off, Overload Protection, Run Light, Hour Meter, 24v Step Down Transformer (ie: Control of remote switches), Automatic Filter Cleaning
● Electrical: 208-240, 460 and 575 volts. 3 phase, 60 hertz.
● Includes: Silencer & cover for motor
● Includes: Magnahelic gauge (Indicates when pressure differential is too high and filters need replacement)
● Note: Unit is skid mounted for easy transportation
Key Benefits
● Captures dangerous welding fumes before they enter the welder's breathing zone
● Ideal for mig, tig, arc and robotic welding
● No lost production time moving largefume extraction arms every time the welder changes position
● Source capture welding guns or weldingattachments only require 80-100 CFM or less each; eliminating the need for costly air makeup systems required with high volume systems
● Several filter options are available, including combination cyclone separatorand polyester cartridge filters with automatic pulse jet cleaning
Eurovac Superior Filtration
All of our systems use a separator designed to remove debris and particles from the air stream before they reach the exhauster, which is vital in protecting the pump from damage. It also prevents contaminants from being released back into the atmosphere.
For removing welding fumes, we use a combination of cyclonic filtration and secondary polyester cartridge filters with automatic compressed air pulse jet cleaning, which permits continuous cleaning while the system is up and running. This is far superior to the automatic shakers often found on bag house separators which can only clean the filters when the system is shut down. This also applies to manual shakers found on many bag house separators, which require a technician to physically shake or operate a handle in order to clean the filters.
Due to the production of hexavlalent chromium fumes, the OSHA decreed the welding of stainless steel to be a health hazard to operators. It is now a requirement for fumes to be filtered not only with standard nanofiber filters but with HEPA filters as well.
Applications
Industrial, Body Shop, Woodworking, Aerospace, Detail, Pharmaceutical, Boatbuilding, Transit, Military.