The last Eurovac Solution you were browsing was Eurovac I 5HP, 10HP & 20HP – "Combo Unit" Central Vacuum.
Eurovac Products
Eurovac I 5HP, 10HP & 20HP – "Combo Unit" Central Vacuum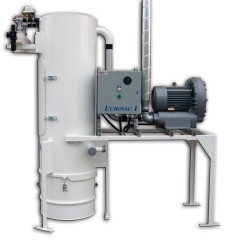 5HP Part #: SYS-030-100CT000
10HP Part #: SYS-030-31600000
20HP Part #: SYS-030-360C0000
Description
Eurovac I -Combo Systems utilize induction motors which are designed for non-stop operation and are rated to run over 20000 hours with little or no maintenance. The 24" diameter cyclonic separator with 2 polyester cartridge fi lter (100 square ft. fi lter media total) removes 99% of the dust up to 3 micron and the automatic compressed air pulse jet cleaning ensures very little maintenance. All systems include control panel and are available in three pahse voltage, 60 or 50 hertz. System typically utilizes low voltage wiring to turn system on/off.
Applications
Industrial, Body Shop, Woodworking, Aerospace, Detail, Pharmaceutical, Boatbuilding, Transit, Military.
Optional Features:
Sound attenuation cabinet, special coatings, stainless steel construction, special discharge options, magnehelic differential pressure gauge, bag equalization, photohelic gauge, etc. Custom system arrangements available upon request.
Additional Resources
EI - 5HP, 10HP & 20HP "Combo Unit" Product Spec Sheet

Download