Eurovac Products
Eurovac I – 24″ Combo Unit 5HP, 10HP & 20HP Welding Portable (2, 3 & 5 User System)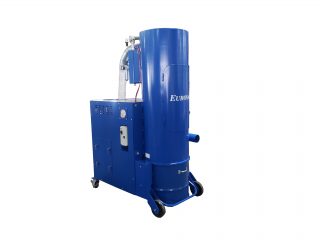 5HP Part #: SYS-030-100CT00P
10HP Part #: SYS-030-316C000P
20HP Part #: SYS-030-360C000P
Powerful Regenerative Blower
Ideal for two to five technicians welding at the same time or housekeeping housekeeping at the same time.
Long lasting – Low Maintenance
The regenerative blower has a T.E.F.C. Induction motor rated for 20,000 hours, which outlasts brush motors found
in most portables. Regenerative motors require little or no maintenance.
Superior Filtration
Cyclonic filtration removes 99% of dust before the secondary filter. This results in the unit operating much more efficiently than units which do not have cyclonic filtration. The remaining 1% of dust is removed by a secondary cartridge filter which cleaned by compressed air pulse jet cleaning action.
HEPA Filtration
HEPA filtration is available by adding a filter between the pump and the cartridge filters. HEPA filters remove any remaining particles to 99.97% at .3 microns or larger.