Eurovac Products
Central Chemical Dispensing System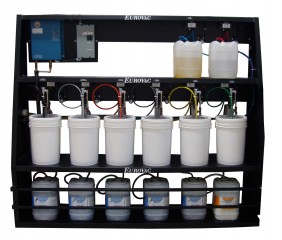 Description
The Eurovac Central Chemical Dispensing System automatically mixescleaning chemicals – including rug shampoo
, which is heated up to 130 degrees F, and pumped to hanging workstations.  Hanging workstations are strategically located between each detail bay, positioned conveniently close to the car door. The installation of a Eurovac Dispensing System ensures that all cleaning chemicals are properly mixed, correctly identified, and readily available to the cleaning technician.  Chemicals are applied with dispensing guns attached to 25–50 ft. color-coded coiled hoses. The system also features an air gun and compressed air line to blow out debris and dust in cracks and hard to reach areas.
The system is installed in conjunction with a Eurovac I, Eurovac II or Eurovac III industrial-grade turbine pump and induction motor, designed for continuous use (rated for 20,000 hours).  The vacuum system includes a separate dry filtration unit and a wet separator for rug shampoo.
Typical cleaning chemicals used in the system include:
• Rubber and plastic all-purpose
cleaner

• Engine cleaner
• Stain remover
• Smudge and paint remover
• Tire dressing
• Glass cleaner
• Wheel rim cleaner
BENEFITS INCLUDE:
Increased Productivity and Lower Labor Costs
Properly mixed and properly identified cleaning chemicals are at your technicians' fingertips.
Lower Training Costs
Well-marked, organized chemicals, combined with system ease-of-use means that there is less chance for operator error.
Reduced Waste and Theft
Chemicals are always mixed correctly, and inventory can be stored in a secure location.
Lower Maintenance Costs
Industrial-grade Eurovac central turbine pumps and induction motors need little or no maintenance.
Improved Safety
Electrical cords and hoses do not clutter the work area. (In a wet work environment electrical cords are hazardous.)
Professional Image
An attractive Eurovac Chemical Dispensing System enhances the look of your operation.
Additional Resources
Eurovac Chemical Detail Dispensing Brochure

Download

Central Chemical Dispensing Video

View Video

Birchwood Auto Recon w/Eurovac Central Vac., Extraction & Dispensing

View Video