Eurovac Products
Eurovac II – 5HP Central High Vacuum Wet Collector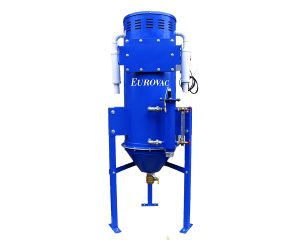 EIII 5HP WET MIX VACUUM SYSTEM
Equipment Specs:
● Blowers: QTY 2 – 2.5HP Brush Motors (4000 Hrs Intermitent Duty) – 1300 watt motosr (120CFM / 115″ Water Column Each)
110 CFM at 60″ WG
136 CFM at 50″ WG
160 CFM at 40″ WG
● Separator: 12 gauge steel which is epoxy powder coat painted and treated with zinc oxide and rust inhibitor
● Filtration: Initial venturi entry (for deep penetration of dust into the water), secondary baffles (to help knock water/dust back down) and final mesh mist eliminator filter (99% efficient to 5 microns)
● Water Level Indicator: Automatic level control via an ultra sonic probe situated in a reservoir of "quiet" water
● Relief Valve: Valve automatically opens when system is shut off to exhaust hydrogen gas build-up in an aluminum application
● Manual Drain Valve: Ball valve for removing the sludge.
● Controls: Magnetic Starter with overload protection and step down to low voltage (24v) wiring for automatic on/off switches when the inlet is opened
● Voltage: 1 Phase 60 Hertz 220/120 (4 wire: 2 Hot, 1 Neutral& 1 Ground). Nema #L1420P plug provided.
● System Mounting: Unit on legs is our standard. Wall mount available upon request at no additional charge
Includes:  Throttling Valve, Vacuum Relief Valve, PVC Silencer & Strainer Ass'y (materials shipped loose for install at inlet of system)