The last Eurovac Solution you were browsing was Eurovac II – 2.5HP "Compact" Sanding Portable.
Eurovac Products
Eurovac II – 2.5HP "Compact" Sanding Portable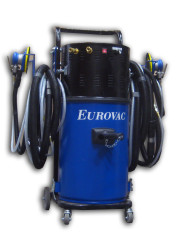 Part #: SYS-050-179
Description
The Eurovac II 2.5HP "Compact"  portable offers the following features:
Powerful 2.5HP, 1400 watt pump has sufficient suction for 2 technicians to sanding or 1 technician to vacuuming at the same time. Produces 117" of water column; 113 free flow CFM.
Vacuum speed dial to ensure you get just the proper amount of airflow and suction..
Quiet operation…motor is turned on and off automatically by air switches when tools are activated. This increases the life of the motor and reduces energy costs of running the motor.
Includes HEPA filtration which removes the remaining 99.97% of sanding dust to a minimum of .3 micron particle.
Heavy duty construction of 14 gauge steel with a tough powder coat finish.
Disposable paper bag filter secured inside steel drum for convenient collection and disposal of particulate.
Compact design and collapsible handle allows for easy transportation
Includes two 25' x 1 1/4" to 1" light weight anti-static vacuum hoses with 1/4" airlines attached whereby the vacuum hoses and airlines become one unit.
Applications
Industrial, Body Shop, Woodworking, Aerospace, Detail, Pharmaceutical, Boatbuilding, Transit, Military.