The last Eurovac Solution you were browsing was
Notice: Undefined index: current_solution in /home/eurovac/public_html/wp-content/themes/eurovac/last-solution.php on line 2
1HP "Rollout" Portable Fume Extractor.
Eurovac Products
1HP "Rollout" Portable Fume Extractor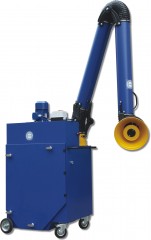 Part #: SYS-070-45106100
Description
Designed to capture, filter and exhaust air impurities created during welding, metal processing or workshop activities.
Three stage filtration system: aluminum mesh pre-filter which protects the cartridge filter from sparks and prefilters
the air, followed by a spun bond polyester cartridge filter, and a final carbon after filter.
Manual compressed air pulse jet cleaning.
Powder coated steel body and has four heavy duty casters to help position the unit in the workspace.
Features
700 CFM @ Hood
Pulse Cleaning System
Large Cartridge Filter
Carbon After Filter
Large Wheels
Arm Diameter: 6"
Arm Length: 10′
Optional Hepa Filter
Key Benefits
Meets OSHA air quality standards
Avoid health and safety hazards that cause respiratory ailments
Reduce make-up air requirements by cleaning and re-circulating the air
Cut maintenance costs by eliminating smoke and dust before particles can settle on equipment and work surfaces