The last Eurovac Solution you were browsing was
Notice: Undefined index: current_solution in /home/eurovac/public_html/wp-content/themes/eurovac/last-solution.php on line 2
Separator Options.
Eurovac Products
Separator Options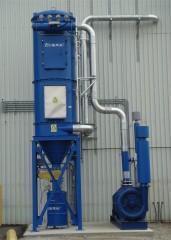 Eurovac can supply many different options to a dust collection separator.  A few of these options available to you are as follows: spark arrestor, explosion relief membrane, rotary airlock, hepa filtration, controls & PLC, knife gate shut off valve, bag in bag out, bin level indicator, blow back damper, differential pressure gauge, spark detection, flame quenchers, platform & ladder, silencer, sprinkler port and various collection canister options.
Eurovac also makes custom system designs so please contact a Eurovac representative for more details.