Eurovac Products
Wet Dust Collectors & Wet Scrubbers – Type A (Sludge Rake)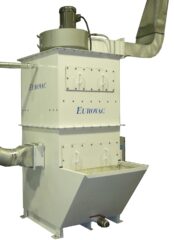 Water Filter Technology
Eurovac Wet Scrubbers purify air by a combination of centrifugal forces and violent mixing of water and contaminated air. As the air stream passes the fixed baffles, the particulate is separated by a heavy, turbulent curtain of water created by high velocity air.
The centrifugal force caused by the rapid changes in airflow direction forces the dust particles to penetrate the water droplets and become entrapped. The contaminated water is then removed from the airstream by special mist filters. Dust, as sludge, settles to the collector bottom and the water is reused.
Eurovac Wet Scrubbers are specifically designed for safe collection of potentially explosive and volatile materials and are very effective in the capture of fine metal particles. They meets the National Fire Protection Association (NFPA 484 – 2006) guidelines for processing and finishing aluminum.
Since the Eurovac Wet Scrubbers also meets OSHA and NFPA regulations for dust removal located inside buildings, they can recirculate in-plant, tempered air to conserve energy.
Applications:
Removes Respirable Dust and Contaminates from Sanding, Grinding, Deburring, Polishing, Packaging, and Processing
Aircraft Maintenance, Repair, and Overhaul Operations
Electrical, Communication, and Lighting Enclosure Manufacturers
U.S. Military Operations
Milling, Refining, and Ceramics Foundries
Chemicals, Rubber Products, and Plastics
Features:
TEFC Motors, Single and Three Phase
Direct Drive/Non-overloading Fan
Interior Baffle Section
Special Mist Filters
Low Maintenance
Electronic Water Level Control
Galvanized Steel Construction with Two-Part Cold Tar Epoxy Coatings to all Interior Wet Surfaces
Industrial Enamel "Gulf Blue" Coating on Exterior
Magnehelic Gauge
Automatic Fill System:
Electrical solenoid only allows make up water to enter unit when blower is on.
Automatic electronic float valve controls level of water when unit is running.
Cut-off valve isolates unit for service.
Pressure regulator.
Manual fill override switch for initial filling of water.
Magnetic Motor starter with push button on/off and overload protection.