Eurovac Products
Eurovac II – 3.9HP Sanding/Grinding Portable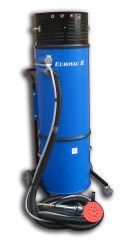 Part #: SYS-050-18200000
Description
Powerful 15.5 amp produces more CFM than any 110 v motor on the market. 1753 watt pump produces 70" of water column; 245 free flow CFM
Quiet operation particularly for fine dust…motor housing is insulated and baffled for sound.
Superior filtration … combination true cyclonic filtration plus secondary cartridge filter, a standpipe surrounding the cartridge filter does not allow the particulate air entering the inlets to go directly to the cartridge filter. The standpipe forces the air to move down the canister to the cyclone where 85% of the particulate is removed before the secondary cartridge filter (see diagram below). This results in the unit operating much more efficiently than units which do not have true cyclonic filtration.
Filters are cleaned by simply removing the motor head and blowing compressed air on the clean side of the filters.
HEPA filtration is available by adding a chamber between the pump and regular filters. The HEPA filter removes the remaining 99.97% of dust to a minimum of .3 micron particle.
Large 20 gallon collection canister mounted on sturdy cart with back wheels and front swivel wheels for mobility.
Applications
Industrial, Body Shop, Woodworking, Aerospace, Detail, Pharmaceutical, Boatbuilding, Transit, Military.
Warning
: count(): Parameter must be an array or an object that implements Countable in
/home/eurovac/public_html/wp-content/themes/eurovac/single-products.php
on line
63
Additional Resources

Warning: Invalid argument supplied for foreach() in /home/eurovac/public_html/wp-content/themes/eurovac/single-products.php on line 73