Eurovac Solutions
Concrete Dust Extraction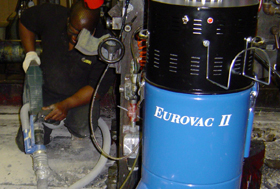 A Eurovac portable high vacuum dust extraction system, used with appropriate vacuum-assist tools, removes virtually all sanding or cutting dust and fumes right at the source – eliminating them before they get into the air that you and your staff breath.
Eurovac high vacuum systems are ideal for source capture when used with vacuum assist hand tools, such as sanders, grinders, saws and polishers. With hand tools, a high vacuum system (10″ to 100″ Water Column) is necessary to offset friction losses in the hose.
• Heavy-duty welded construction throughout.
• State-of-the-art filtration featuring primary cyclonic filtration and secondary polyester cartridge filters, with Pulse Jet cleaning.
• Alternate filtration systems are available for specific applications.
A

We're the central vacuum specialists with products for every need and budget. Superior product designed to run all day, every day with minimal maintenance requirements. Superior filtration, all Eurovac systems have built-in primary cyclonic separation located ahead of the final bag or cartridge filters. Properly engineered layouts

Read More
Concrete Dust Extraction Products